Posted by Recipe courtesy of TasteOfHome.com on Nov 15th 2018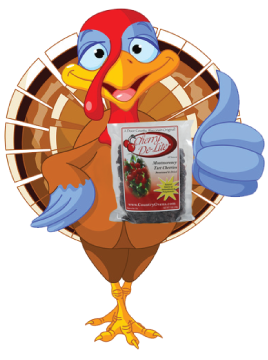 Ingredients
8 bacon strips, diced
1-1/2 cups chopped celery
3/4 cup chopped onion
7 ounces unseasoned stuffing cubes
1-3/4 cups chicken broth
1-1/2 teaspoons rubbed sage
1 teaspoon dried thyme
1/2 teaspoon pepper
1/4 teaspoon salt
1/2 cup Cherry De-Lite dried cherries
1 turkey (12 to 14 pounds)
Melted butter
Directions
In a skillet, cook bacon over medium heat until crisp. Remove with a slotted spoon to paper towels; drain, reserving 2 tablespoons drippings. Saute celery and onion in the drippings until tender.
In a large bowl, combine the stuffing cubes, broth, sage, thyme, pepper and salt. Stir in the bacon, celery mixture and cherries.
Just before baking, loosely stuff the turkey. Skewer turkey openings; tie drumsticks together. Place breast side up on a rack in a roasting pan. Brush with butter.
Bake, uncovered, at 325° for 3-1/2 to 4-1/2 hours or until a thermometer reads 180° for the turkey and 165° for the stuffing, basting occasionally with pan drippings. Cover loosely with foil if turkey browns too quickly.
Cover turkey and let stand for 20 minutes before removing stuffing and carving turkey. If desired, thicken pan drippings for gravy.