This flavorful Cheese Ball Recipe is made with cream cheese, goat cheese, dried cherries, and pecans. Change around the dried fruit and nuts to make your perfect Cheese Ball!
Cheese Ball Recipe:
This recipe is made with a combination of goat cheese, cream cheese, dried fruit, and nuts. It's the perfect balance of sweet, tangy and creamy, and it is so, so, so delicious!
Combine softened cream cheese, goat cheese and honey. I use a hand mixer to get it extra smooth and creamy.
Stir in dried cherries and pecans (or any dried fruit and nuts of your choice).
Place the mixture onto a piece of plastic wrap, wrap it up, and form it into a ball.
Refrigerate the cheese ball for several hours or overnight, until it's firmed up.
Spread out chopped nuts, dried fruit and parsley on a flat surface. Place the cheese ball on top and press the dried fruit and nuts onto the top and sides of the cheese ball.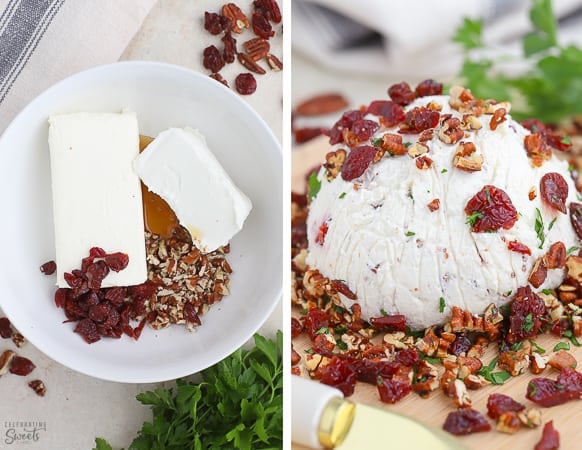 Cheese Ball Flavors:
You can easily swap around the dried fruits and nuts to change the flavors of this cheese ball. Here are some ideas:
Dried cherries and pecans (we especially love using candied pecans from Trader Joe's).
Dried apricots and toasted walnuts.
Dried cranberries and pistachios.
Dried blueberries and toasted hazelnuts.
A combination of several dried fruits and nuts (use your favorites).
Recipe Tips:
Allow enough time to let the cheese ball firm up in the fridge. You will need at least 4 hours (after forming the cheese ball) to allow it to firm up before adding the toppings.
Use toasted nuts. Toasted nuts have way more flavor and crunch than raw nuts. Either buy nuts that are already toasted or toast them yourself in a dry skillet over medium heat.
Use candied nuts or salted nuts to make it sweet or salty. You can even use a combination of both!
I have served this cheese ball to people who claim to not like goat cheese, and they loved it! So, even if you're not a fan, give it a try!

Recipe shared from celebratingsweets.com